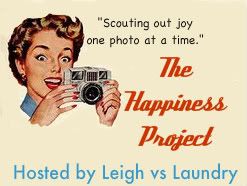 Okay, I'll be the first one to admit: I am a day late for
Leigh's
Happiness Project
. But I have been mixing up the days and I thought it was Tuesday today until someone mentioned otherwise.
Anyways. My photo for this week is one from Jinte and it was taken last night when she was taking a shower. Other than DS Joram at that same age she loves the water. I love the sparkle in her eyes on this photo. I can not believe she will be turning one in about six weeks. Time flies!
Oke, ik geef het toe. Ik ben een dag te laat met Leigh's Happiness Project! Mijn excuus is heel simpel: Ik ben een beetje in de war met de dagen. Ik dacht dat het dinsdag was totdat iemand mij er vanmorgen op wees dat het toch echt woensdag was. Maar goed: Mijn foto van deze week is er eentje van Jinte. Deze is gisterenavond genomen toen ze onder de douche zat. Zij vindt de douche heerlijk, en dat terwijl Joram op die leeftijd het gespetter helemaal niet zo lekker vond. Ik vind de schittering in haar ogen op deze foto helemaal geweldig! Over ongeveer zes weken wordt ze alweer een jaar. Wat vliegt de tijd!