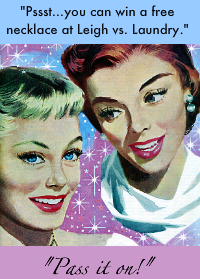 I have quite a few blogs that I read and
Leigh vs. Laundry
is one of them. Leigh is having a great give-a-way for a beautiful necklace. You might want to check Leigh's blog to check it out and enter to make a chance. You also might want to visit
Jessica Sprague
. Jessica is offering a free class called: Computer Tricks for cards. I did some of Jessica's classes and I love what I learn. You can register
HERE
. Registration started on June 14th and the actual class will start on June 28th. I came upon this blog called
Midnight Rooster
and they have this great tutorial for a
Glimmer Mist Double masking technique
. Looks really cool. I am definitely going to try that!
Paper Glitter
is a great blog and they always have great printable freebies. This time they are giving
Father's Day cupcake toppers
away. You can also use them als circle labels or as gift tags. While you are there you should take a look at their store. They have great printables and they are very affordable. Another cool idea for Father's Day is this
tin of tokens
at
Eightteen25
. This will be a great thing to do with the kids.
Have a good one!
NOTE: I have edited my post with my last layout here. I have replaced the poor quality photo with a much better one. If you want to see, you can find it
HERE
Er zijn aardig wat blogs die ik lees en
Leigh vs. Laundry
is er een van. Leigh heeft een geweldige ketting om weg te geven. Als je een kans wilt maken moet je echt even naar Leigh's blog.
Verder moet je ook eens kijken bij
Jessica Sprague
. Jessica heeft een gratis workshop 'Computer Tricks for cards'. Ik heb een paar van haar cursussen gedaan en ben iedere keer weer blij met wat ik geleerd heb. De registratie is gestart op 14 juni en de workshop start op 28 juni. Je kunt je
HIER
inschrijven.
Paper Glitter
heeft een geweldig blog en ze bieden ook altijd geweldige freebies aan. Ze hebben nu een hele leuke voor vaderdag:
Labels voor op cakejes
of om gewoon als lables te gebruiken. Als je toch op hun blog bent moet je ook gelijk eens een kijkje in de online winkel kijken. Echt hele leuke en betaalbare dingen.
OPGELET: Ik heb mijn laatste bericht over mijn layout aangepast. Ik heb de slechte kwaliteit foto vervangen door een veel betere. Als je interesse hebt kun je hem
HIER
bekijken.
Een fijne dag!